About Cook King
Cook King – food flavored with wind and fire.
What is the most important thing about Cook King?
We create products whose purpose is to awaken the magical power of fire and enable the preparation of unforgettable meals outdoors. What defines the true spirit of Cook King is delicious food that brings people together around one table. It is a living fire that you can gather around in the evening to share your personal stories with others. The spirit of Cook King also includes a family atmosphere that you share with your relatives and friends when you meet in the garden. This is exactly what we are talking about whenever we mean food flavored with wind and fire.
For your customers.
We are the producer of Cook King brand items. Please contact us if you are looking for high-quality fire bowls, garden stoves and grills for your customers. We are happy to cooperate with distributors from all over the world.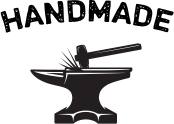 See video
Handmade
Designer
Worldwide Hand-crafted quality
What is the secret of the highest quality of our products?
As part of our operations, we use the best forging techniques: individual product elements are properly selected, matched and welded together. This is how we manage to create durable products with a stable structure.

Believe in good design
It is our designer who gives our brand its character!
All our products are designed by one man. Thanks to his passion, commitment and years of experience each of our products is planned to the smallest detail.
He travels all around the world finding inspiration in different cultures, due to which Cook King products are popular and appreciated by customers from various countries.
When starting a new project, he keeps asking himself: How will the product look in a garden? How can I make it solid, stable and safe? Will it be easy to use? Will it be a pleasure to use it?
Whenever asked about the most important aspects of designing a product, he says: QUALITY, STYLE AND DURABILITY.
And this is what Cook King products are all about – high-quality grilling tools thanks to which customers all over the world can enjoy food flavored with wind and fire.
World-renowned brand
Year after year, Cook King products are becoming more and more popular with customers from all over the world. They help get great outdoor parties going in Europe, Africa and Asia. Customers value our products both for their original design and for their high quality.
Fast and safe deliver
We closely cooperate with the best transport companies and as a consequence we are able to provide a fast and safe delivery of large quantities of products to any place indicated by the customer.
Would you like your customers to take pleasure in using Cook King products, too?
Please get in touch with us!